Welcome
The Phyllis Recca Foundation is a non-profit 501(c)(3) organization committed to supporting causes related to the health, personal growth and well-being of children. From 2000 - 2023, the Foundation supported families and programs at Children's Hospital of Philadelphia. The Foundation also supports other community activities including educational, historic preservation and social programs.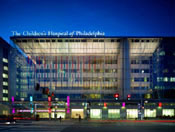 Programs Supporting the Children's Hospital of Philadelphia (CHOP)
From 2000 to 2018, the major focus of the Foundation was helping families with children suffering life-threatening medical conditions by paying their hospital bills at CHOP. Beginning 2019, we entered into a five year pledge to support three worthy programs designed to provide needed support for families with children admitted to CHOP for medical care.
Social Work Emergency Fund
Provides emotional, social and spiritual support for children and families during the most difficult times of their lives.

The Healing Power of Play
Child life specialists use innovative strategies and techniques to reduce children's pain and anxiety, soothe them during medical procedures, and help them cope with the hospital experience. One example: children are encouraged to play with the toy doctor's kits, using stuffed animals as "patients" - an activity that helps them process their fears and anxieties.

Brandywine Valley Specialty Care Center- Adolescent Support
Adolescent and young adult patients have emotional and social needs that are different than their younger counterparts. CHOP offers resources like Facebook chat groups, teen lounges, and age-appropriate art and music programming.
Educational, Historic Preservation and Social Activities
The Foundation provides financial assistance for activities which stress education, historic preservation and social responsibility. This includes organizations which promote hands-on historical education opportunities and helping families in need.